10% of the proceeds from everything in our shop is donated to one of the nonprofit organizations we work with
Green Daffodil Soy Candles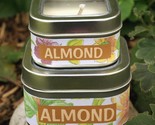 With their soot-free burn, long burn time, and wonderful scent throw, are certainly compelling factors to get excited about. But you are also enjoying a green product made from a wax that is completely renewable, eco-friendly, grown in America, vegan, carbon neutral, sustainable, and is just an all-around positive product. The goal was to a make the best candle for you and the planet.

Eac hand-pour each candle in small batches They use essential oils or phthalate-free fine fragrance oils to offer the best scent possible. Currently the candles come in a 4 oz. . size square tin with clear lids. We have found that the 4 oz. is great for small areas and is a wonderful travel size. (Think stale hotel room smell.). Burn times will vary, but the small will burn up to 20 hours. We recommend you trim your wick to 1/4" before each use and allow an even wax pool to form. This will ensure the best enjoyment and longevity of your 100% soy candle.

---
Women for Hope is for informational purposes only. If you need physical or mental help, please contact your local medical office. The charities involved do not endorse and are not directly affiliated with Women for Hope or the product offered on this site. However, permission has been received by Women for Hope to use their names and/or logos. and links to their websites.
Logo designed by Katherine Rhodus.
Copyright (c) 2008 Women For Hope. All rights reserved.